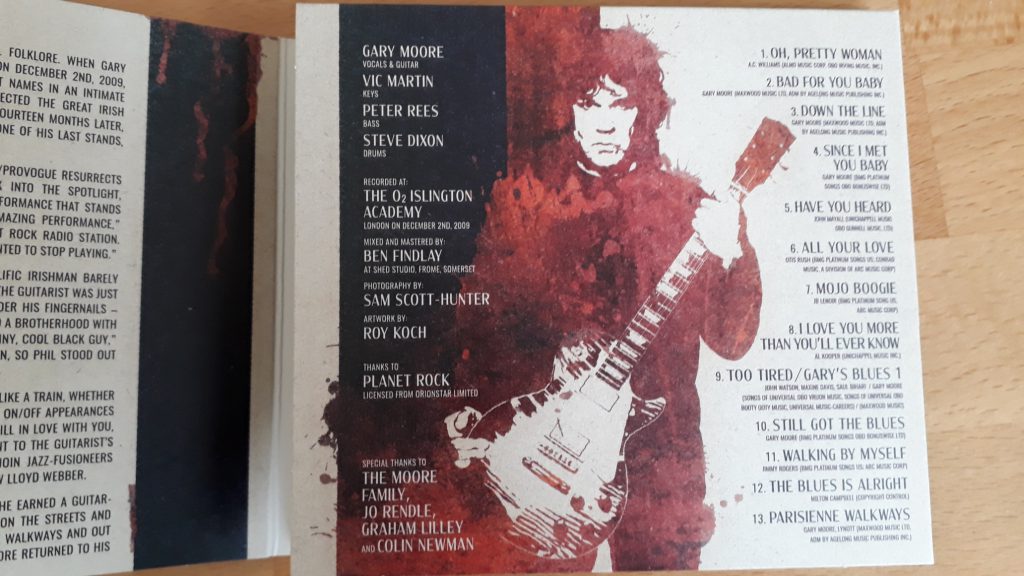 A short review of "Live from London"
Track Listing
Oh Pretty Woman/ Bad For You Baby/ Down The Line/Since I Met You Baby/ Have You Heard/ All Your Love / Mojo Boogie I Love You More Too Tired/ Gary`s Blues/ Still Got The Blues/ Walking By Myself/ The Blues Is Alright/ Parisienne Walkways
Personnel
Gary Moore: Vocals & Guitar
Vic Martin: Keys
Peter Rees: Bass
Steve Dixon: Drums
Recorded live O2 Islington Academy, London on December 2nd 2009
Rough recording, you can imagine how loud it was then, you can feel loudspeakers aching and the valves glowing, very intense. The overall band sound is superb. Peter Rees is a fine bass player who knows to set the fundament for great guitar work. Vic Martin´s keyboard is very tasteful and Steve Dixon´s drum work is exact.
Oh Pretty Woman: great rocking version
Bad For You Baby: Tele driven track, very powerful
Down The Line: High speed Telecaster tune, country style solo
Since I Met You Baby: fine relaxed blues tune, shuffle, typical Gibson/ Marshall vintage sound, probably played with his signature Les Paul.
Have You Heard: played with Gibson ES guitar, best solo moments when guitar´s volume is rolled back; Pete Rees fine bass playing just awesome; impressive blues vocals, It´s been said, that Provogue Records cut the solo in this track.
All Your Love: never heard such a slow version of the Bluesbreakers tune by Gary, very intensive, great vocals,one of my favorites on the cd.
Mojo Boogie: rocking track from Bad For You Baby, played with his red Gibson BFG, some nice slide work here; rough and beautiful with crowd singalong.
I Love You More Than You will ever know: cover from Dany Hathaway; the intro alone is worth to buy the cd. Goosebumps factor!!!!! Gary Moore at his best!!! The vocals so soulful. A real gem! Think it´s the best song on "Live from London". 2009 he used a Gibson Custom Shop Goldtop Darkback on "I love you.." Yesterday I read that Provogue cut the tracks. There are versions from Japan tour, where the track was solowise extended. When I saw him two times on German 2009 tour the track was way longer. There were certain parts he usually played after the last vocals that are missing. Probably they cut out these. To bad.
Too Tired/ Gary´s Blues 1: Too Tired great fluently soloing, Gary´s Blues 1 an instrumental interplay by Gary
Still Got the Blues: Starting with some jazz chords, great voice on this famous track and beautiful rhythm guitar sound, so sweet. Maybe he used sort of chorus pedal here. Great soloing, a bit fizzy in the first moments when changing to the treble pickup. You can feel every note, the bendings on the Les Paul´s fretboard. Superb version.
Walking By Myself: Rough version, with people singing along, celestion speakers had hard to work on this one. Overdriven valve tone
The Blues Is Alright: Tele sound; good drive
Parisienne Walksways: Intense version with great cleaned up tones, chords and high speed runs, and the typical feedback parts for what this song is famous for.
For me: 10 out of 10
Listening to the cd, the two gigs in 2009 come to mind. Great memories, glad to have the cd . – Like the limited version with four guitar picks, coasters, stickers and post card.
RIP.